When Modi met Netaji's 99-year-old aide in Japan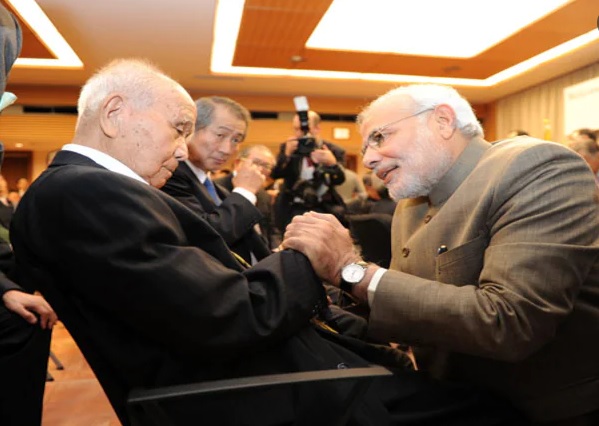 数日前、東京で岡倉天心の関係者と歓談していて、モディ首相が日本で歓待されたことに関連して、外務省はどうしてチャンドラ・ボースの遺骨を安置してある杉並区の蓮光寺にお連れしなかったのだろうということを話していた。日本とインドを結びつけて先覚者はタゴールとチャンドラ・ボースであることを知らない日本人があまりに多いことを嘆いた。ところが今朝方、Facebookでモディ首相がボースと一緒にイギリス軍と戦った99歳の日本兵、三角佐一郎氏に跪いている写真を見つけた。神々しいその姿にある感慨があった。
http://indiatoday.intoday.in/story/narendra-modi-meets-netaji-aide-japan-saichiro-misumi-syed-akbaruddin/1/380510.html
  The meeting was rare and poignant – an Indian prime minister kneeling down to greet a 99-year-old Japanese associate of Netaji Subhas Chandra Bose, in Tokyo.
  In a photos released on Tuesday, Narendra Modi was seen peering into the eyes of Saichiro Misumi and then warmly clasping his hands.
  "Poignant moment! PMOIndia reaches out to Netaji's oldest living associate in Japan the 99 year old Saichiro Misumi," said a tweet by Ministry of External Affairs Ministry spokesman Syed Akabaruddin.
  Earlier in the day, Modi at a function in the Japan capital, spoke about Misumi, saying there was a man in Japan who still vividly remembered all details about Netaji.
  This was Modi's second public tryst with an old comrade of Netaji.
  On May 8, during the Lok Sabha election campaign, Colonel Nizamuddin, a 114-year-old former INA officer, shared the stage with Modi at a rally in Varanasi. Modi had touched the war veteran's feet.
  Netaji Subhas Chandra Bose was the founder of the Indian National Army (INA) that fought the British with help from the Japanese in India during the Second World War.
  He was believed to have been killed in a plane crash in Formosa (now Taiwan). The region was under Japanese occupation at the time of crash. The ashes were taken to Tokyo and are kept at Renkoji Temple in the city.